When Samsung first released its cryptocurrency wallet in February earlier this year, some were taken by surprise and slightly confused.
Some even pondered what the central motive behind Samsung's rush to integrating a crypto wallet.
However, in April of this year things are starting to make a lot more sense. According to reporting from Coindesk, Samsung Electronics is reportedly developing an Ethereum-based ERC20 token and is currently in the process of creating a mainnet.
Samsung's "Blockchain task force" has already completed testing of several versions of a blockchain protocol on top of Ethereum.
A source told Coindesk Korea:
"Blockchain task force made several models and are evaluating them. There are already several platforms that a functioning after some internal tests."
Answering a few questions at the Blockchain Expo in London though, business development and fintech chief at Samsung SDS Europe, Moritz von Widekind, said the company hadn't decided on anything concrete yet.
According to Von Widekind, various departments within the company are currently working on the project.
The task force has been in active development for at least a year. However, no timelines were discussed in detail, and use cases have not been solidified.
It is speculated that the dubbed, "Samsung Coin," could be used as a payment token within the company's similarly named payment app, Samsung Pay and the token might be traded publicly on cryptocurrency exchanges across the market.
Similar to the announced GRAM Token from Telegram and Facebook's cryptocurrency venture it is unclear how the economics of the tokens will work.
---
Is Samsung trying to compete with BTC?
An anonymous official from the company said:
"Currently we are thinking of private blockchain, though it is not yet confirmed. It could also be public blockchain in the future, but I think it will be hybrid—that is, a combination of public and private blockchains."
Sources from within Samsung add that blockchain tech is continuously being developed by the wireless tech division of Samsung.
Even though it has not been confirmed as to what devices will provide support the blockchain, a company official revealed that "some models are being tested for it."
Regardless of these developments, questions around the possibility of getting a cryptocurrency off the ground are still in the air.
In South Korea, companies are not permitted to issue token via Initial Coin Offerings (ICO), and investors cannot invest in domestic ICO projects.
Telegram for contrast was able to succeed in generating 1.7 billion in funds via two ICOs recently.
Samsung would be no exception, greatly due to the immense impact the company has on various sectors in South Korea. Yet, South Korea is known as a pro-crypto and pro-blockchain nation.
Most companies however circumvent this issue by simply moving overseas to markets like Japan to conduct private token sales and bypass the regulatory frameworks imposed by local financial companies.
Samsung's foray into the payment space and potential addition into the crypto space is strategic.
---
According to the World Payment Report of 2018, global mobile transactions topped $41 billion in 2016, more than 8% of all non-cash transactions worldwide.
The WPR study also showed that tech firms like, Google, and Tencent account for more than 70% of the global money transfer market as far back as 2016.
Part of the report reads:
"These companies are leveraging their large-platform use base to make an impact in the payments space, focusing on providing seamless user experience, value-added features, and making use of network effects. Incumbents should learn from the BigTechs and invest in technology platforms in order to compete with them."
No matter what the aim of these companies and Samsung the main idea behind cryptocurrency seems to be missed.
It is the democratization of payments on the global level is one of the foundational principles of bitcoin and blockchain-cased currencies in general.
According to Jerry Brito of Coin Center, the payment systems these companies create are in-house payment system and are pale imitation of real cryptos like bitcoin.
He also said in February of this year, "I see folks referring to it as a cryptocurrency. It's not a cryptocurrency. A cryptocurrency is one that is open and permission-less. If you want to download it, you don't need permission, you just need some software."
Additionally, criticism regarding security has also been noted by some, when suggestions came about that Ethereum could be vulnerable on the company's S10 device.
---
A video put out by a user 'darkshark' on Imgur, showed how easy it was to crack the phone.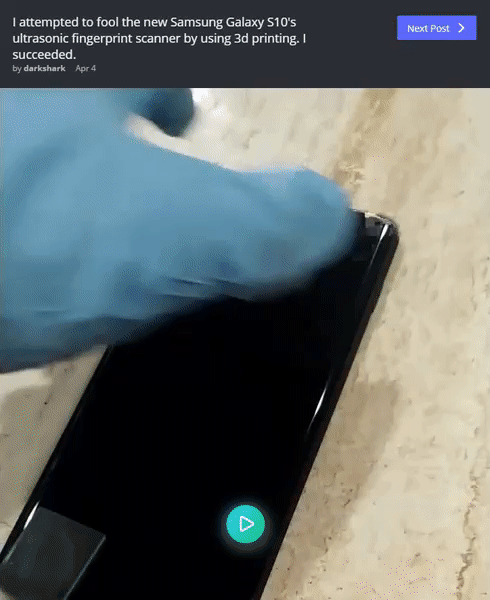 'Darkshark' also stated, "This bring up a lot of ethics questions and concerns. There's nothing stopping me from stealing your fingerprints without you ever knowing, then printing gloves with your fingerprints built into them and going and committing a crime."
Samsung has not commented on the above and other criticisms, but as development of their blockchain tech and their potential "Samsung Coin," it is not known how they will address each issue in the future.
---
Would you get the new Samsung just for its crypto-wallet? Let us know in the comments below!